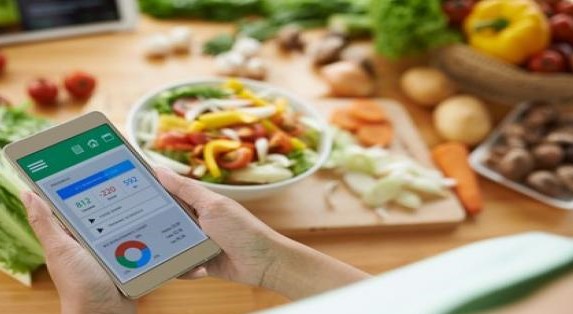 Technology has certainly made a lot of our lives easier, but studies have shown it may also be making us lazier too. We now have robot hoovers and lawn mowers meaning our household chores are getting done for us without having to lift a finger; and while many of us sit down for a living behind computer screens at desks, there are a few tech gadgets that can help us to get our food in check and make us eat healthier.
Food Scanners and Phone Apps
You can now pick up molecular scanners and sensors for your food at a relatively inexpensive cost. Simply scan to find out the nutritional value of your dairy, meat, fruit and vegetables. You can even track your body fat percentage with some of the scanners too!
Apps have become a huge part of our lives with the average number used by a person daily hitting 9 and monthly, 30. Apps such as myfitnesspal can help you track what you're eating, whether you're eating the right nutritional foods for your body and if you're overeating. With these technologies we can ensure we're eating what is best for us and keep us on track.
Delivery Food Apps
The number of delivery apps for food has grown at an exponential rate. With the food delivery market now estimated to be worth over £6.2 billion, there's no surprise that more and more restaurants and cafes are signing up to be a part. With this growth in choice, you don't just have to order a pizza the next time you don't fancy cooking. Switch it up and order something healthy to get your healthy eating back on track.
Get Your Five a Day the Easy Way
If the thought of eating five or more fruit and vegetables a day makes you sick to your stomach then worry not. There is an easy solution to getting all the vitamins and minerals your body needs. A smoothie and soup maker is the ideal gadget if you lack patience when it comes to cooking and prepping fruit and veg. Most are lightweight and relatively inexpensive so you can whizz up some deliciously warming soup or a healthy smoothie in no time at all.
Check Your Food with FOODsniffer
This incredibly innovative piece of kit helps you determine the freshness of raw meat, fish and poultry. Once you've connected it to your smartphone via the app, it measures the raw meat gas levels, analyses the results and tells you instantly the levels of its freshness and safeness to eat. Available in four different colours, we expect this gadget to be in most kitchens soon.
Wearable Fitness Trackers
Although not solely about your eating and to help with your overall fitness, these wearable gadgets are perfect for really helping you keep an eye on what you're putting in your body and what exercise you're doing.
Get fit and eat healthier this year with these top 5 bits of tech that can really give you a boost. For all your tech needs, RS components offer a wide variety of leads, cables and memory that can help keep your devices charged and ready to go.